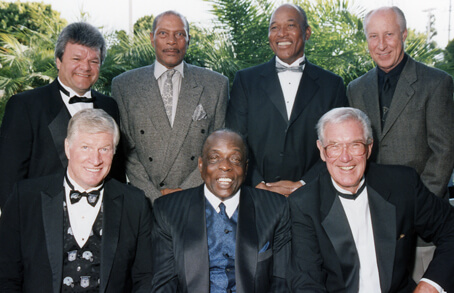 Deacon Jones believed in making a difference in the lives of inner city youth and those that were less fortunate in life.
Founded in 1997 by Deacon and Elizabeth Jones, The Deacon Jones Foundation was created to assist young people and the communities in which they live.
The Foundation's primary objective is to develop leaders. To give young, talented and intelligent students the tools to become positive role models.
Today, the Foundation is fulfilling its mission to serve youth populations who need support with two extraordinary programs.
Art Created For NFL Fans
Through an exceptional arrangement with the National Football League, The Deacon Jones Foundation is delighted to be working with a group of artists who have created a dynamic series of limited edition sports art prints featuring the teams and players of the NFL.
Each print is officially licensed by the NFL.
The American artists include Edgar Brown, Robert Hurst and Jota Leal among many others. Each artist brings an interesting perspective to America's passion for professional football through their work. From capturing special moments in history to current players and NFL greats, each piece of art was created with the fan in mind.
We Are Building Tomorrow's Leaders Today
All proceeds from the sale of these licensed pieces of sports art will benefit the Foundation's Young Emerging Artists Education & Scholarship Program We encourage you to visit the available artwork and find the perfect piece for your office, man cave, or fanatic in your life. Your purchase will support the development of future leaders.
Support The Foundation
Since Deacon's passing in 2013, the Foundation continued to uphold his personal commitment to inner-city youth by:
Corporate sponsorship of our Scholarship Program

Give an individual donation